An Expat Guide to Moving to Australia from the UK
As an English-speaking country with long-standing ties to the UK, Australia is a popular choice for UK nationals moving overseas. With a varied climate and over 50% of the population claiming British heritage, those moving to Australia from the UK will feel right at home among Australia's expat communities.
Visa & Residency Requirements When Moving to Australia
When moving to Australia from the UK, it is important to have the correct paperwork in place, particularly if you are moving a large number of belongings, moving to work or moving with family. Your passport must be valid for the duration of your stay when visiting Australia so it is important that you keep your passport up to date when moving to Australia. If you will be working temporarily or taking a working holiday in Australia, you will need to apply for a working holiday visa. You may also be able to apply for a skilled migration visa. After you have lived in Australia for four years or more, you can apply for Australian citizenship as long as you are eligible. If you own an Australian passport already or have dual citizenship, you should travel using that passport for easier entrance.
Weather in Australia
Those moving to Australia from the UK will find a vast country with a number of different climates. Depending on where you will be moving to in Australia, north or south, you may experience very high temperatures or mild summers with rainy winters. The north of Australia has a tropical climate with summer running from December to March with average temperatures of 29 degrees Celsius and winter averages of around 13 degrees. Those moving to Western Australia, including those moving to Perth will find hot, dry summers and mild winters with thunders common during the cooler months. 
Cost of Living When Moving to Australia
Those moving to Australia to live may find a much higher cost of living than they are used to, depending on where they are moving from and moving to. With a cost of living sitting as the 12th highest in the world, those emigrating to Australia from the UK should determine all of their outgoing costs and what their income will be to make sure they have the necessary funds. Groceries and utilities are notably more expensive on average in Australia compared to the UK however it is worth determining how this compares to any increase in wages you might receive.
Where is Best to Live in Australia?
For UK citizens moving to Australia, the bigger cities, although sometimes more expensive, tend to be popular choices, with more choice and a more varied work availability. With 43% of Australians either born overseas or having a parent born overseas, Australia's expat communities are thriving and have build up some fantastic and welcoming neighbourhoods for those making the move from the UK for the first time. Many people in Australia live along the coastlines with some popular destinations such as Sydney, Melbourne, Perth and Adelaide having strong expat communities. Each of these placed well in the list of the world's most liveable cities. Brisbane, with its fantastic beaches and weather, is also a popular choice for UK expats moving to Australia.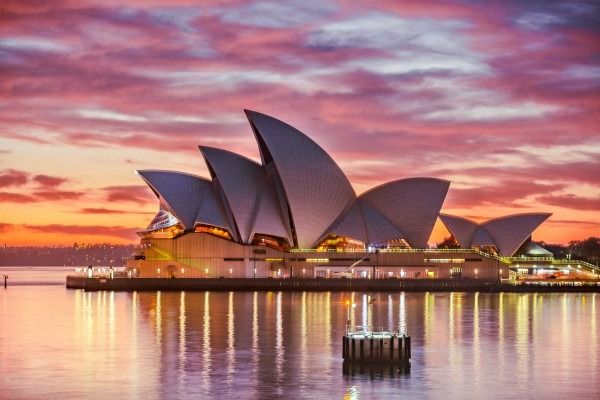 Driving in Australia as a UK Citizen
As long as your UK driving licence is valid, you will be permitted to drive in Australia as a UK citizen. However, after moving to Australia for three months, you will need to apply for an Australian driving licence in order to legally drive. When moving to Australia, you should bear in mind that rules regarding international driving licences vary slightly from state to state but it is important that you always carry your driving licence and passport with you when driving in case you are stopped or there is an accident. 
Australians drive on the left-hand side of the road so adapting to driving when moving from the UK to Australia is not as hard as in other countries where you will have to adapt to driving on a different side of the road. As with British roads, overtaking is done on the right-hand side and you should usually aim to keep left, as in the UK.
If you will be driving through the Australian outback at any point, it is important that you are fully prepared for the trip, plan your journey in advance and let others know that you are making the journey and what time you expect to arrive at your destination. You may also have to apply for a Desert Pass Permit in some situations. When moving to Australia as a family, it is also important that you check state regulations on child seating and restraints to ensure you are abiding by all provided rules.
Fast Facts About Moving to Australia
Australia experiences extremely hot weather (sometimes over 40 degrees celcius) and has a particularly thin ozone layer meaning the sun can be dangerous. You'll see the 'Slip Slop Slap' campaign a lot meaning you should slip on a shirt, slop on some suncream and slap on a hat to stay safe.

You can ski in Australia. The Australian Alps are a popular ski spot and get more snow than Switzerland!

Almost 90% of Australians live in cities but there are also over 500 national parks to enjoy when you travel outside of them.

Australians love their slang. You may find all sorts of wacky word-substitutes on moving to Australia from the UK.

Smoking is extremely expensive. If you are moving to Australia as a smoker, you will find extremely expensive tobacco products. Australia has introduced one of the highest tax rates on tobacco in the world to try and encourage Australians to kick the habit.

If you didn't already know, upon moving to Australia you will find that Australia is extremely large. it covers over three million square miles and like-for-like would cover almost the entirety of Europe.

If you will be renting in Australia, be sure to arrive with at least six to eight week's worth of rent as a number of rental properties require 4 weeks deposit as well as a monthly payment in advance.
Moving Your belongings to Australia from the UK
When moving your belongings to Australia, it is important to be aware of any customs conditions before you set off. It is also important to choose an experienced removals company who you trust to move your belongings from the UK to Australia. Anglo Pacific world movers have helped people emigrate to Australia for years and offer a personalised service to get you and your belongings where they need to be safely.
If you are looking for a quality removals company to help you move from the UK to Australia, check out our removals to Australia service. Request a call back here or find out more ways to get in touch here.