Moving to Cyprus from the UK – An Expat Guide
Recorded in legends as the birthplace of Aphrodite, the goddess of love, moving to Cyprus from the UK is becoming a popular option for Brits looking for sunshine and distinct Mediterranean culture. With sparkling blue seas, beguiling beaches and endless sunshine, Cyprus has enticed travellers for centuries. If you are looking to move to Cyprus from the UK, there are a number of things to consider, from the where to the how. That is why we at Anglo Pacific World Movers have created this complete expat's guide to moving to Cyprus from the UK. Read on for everything you need to know about moving to the 'Island of Love'.
What to Expect When Moving to Cyprus as a Brit
Split between the Turkish Cypriot north and the Greek Cypriot south, those moving to Cyprus should bear in mind that whilst one island, there are important cultural differences between the two parts. For those wanting the familiarity of bustling shopping centres and nightlife, as well as the security of the European Union, the Greek south of Cyprus holds its sun-soaked attractions.
Those looking for a quieter way of living and a more Turkish feel, the north will be your haven when moving to Cyprus from the UK. Those moving to northern Cyprus will use the Turkish Lira as currency in their day-to-day living whilst those moving to south Cyprus, or the Republic of Cyprus from the UK will use Euros.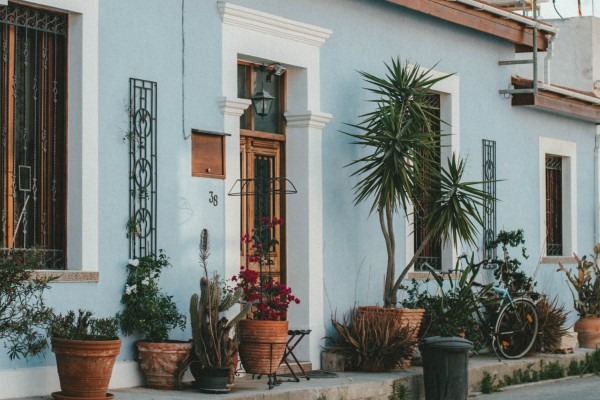 Moving to South Cyprus from the UK
Many people moving to Cyprus from the UK move to the south of Cyprus. Officially named the Republic of Cyprus, southern Cyprus is a bustling and thriving country with a long line of stylish hotels, fantastic beaches and brilliant entertainment options as well as some intriguing historical sites. Many UK expat communities are located in this part of Cyprus and offer a friendly introduction to the nation.
As part of the EU, the Republic of Cyprus is a popular choice for British expats. If you are moving to Cyprus after Brexit, you can live and work in Cyprus in the same way as previously, covered by your rights to stay as an EU citizen until the 31st December 2020.
After that point, you may need to apply for a visa or permit to move to Cyprus, depending on EU negotiations. Because of this, you should apply for a residency permit and Cypriot driving licence before the 31st December to simplify the process. You should also register for healthcare in Cyrpus before that point to maintain life-long healthcare in Cyprus.
Moving to Northern Cyprus
When moving to northern Cyprus from the UK, it is important to note that it is not part of the UK so will be subject to different rules and regulations than the EU south. You must be able to prove you can support any dependants who move with you. You removals experts will be able to advise you on the necessary paperwork needed to move your belongings, but you should also apply for a North Cyprus Residence Permit if you are moving to Cyprus permanently.
With incredible mountain ranges, ancient castles and more, those moving to Cyprus from the UK who will be based in the north will find impressive surroundings perfect for hiking and those who like exploring the great outdoors.
Living in Cyprus as a UK Expat
Cyprians are notoriously friendly, whichever part of the island you visit. Those moving to Cyprus from the UK will find a warm welcome in the Cyprian community. Around 70,000 British expats live in Cyprus and have integrated well into their local communities. English is widely spoken so many UK nationals find it easy to integrate when moving to Cyprus.
Weather in Cyprus
With very mild winters and hot summers, many UK nationals move to Cyprus for the fantastic weather. Long, dry summers last from mid-May to mid-October with summer temperatures ranging from around 24 to 20 degrees and maximum temperatures in Cyprus going up to around 28 degrees. Short autumn and spring seasons act as a buffer for the winter months with these reaching around 10 degrees or around 3 degrees in the higher Trodos Mountains. For those moving to Cyprus from the UK, the balmy seawater temperatures are a major draw, with beach days the perfect way to relax throughout the year.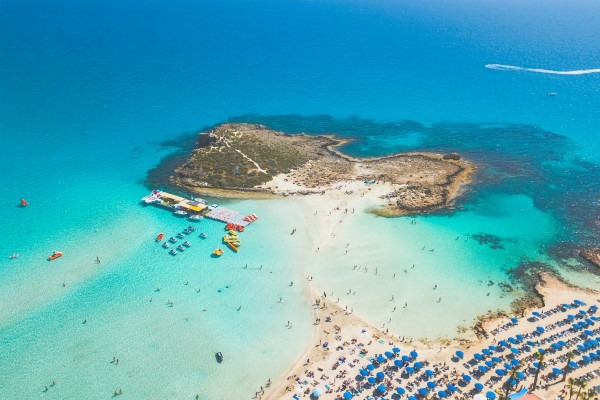 Cost of Living When Moving to Cyprus
Many expats move to Cyprus from the UK for the lower coast of living. On the whole, when moving to Cyprus from the UK, you can expect to find lower costs for things such as house prices, utilities and transportation with Cyprus offering brilliantly affordable cost of living compared to the UK. Whilst clothing and some groceries may cost slightly more in Cyprus due to transportation costs, this is far outweighed by other living costs in Cyprus. This makes Cyprus an extremely attractive option when moving from the UK.
Working in Cyprus
If you are planning on working in Cyprus, you may find steep competition for certain roles. Those with degrees in finance, IT, electrical engineering and telecommunications will find their skills in high demand. If you have a working knowledge of Greek, this can also help your career prospects in Cyprus tremendously. Other popular industries in Cyprus include shipping, real estate, energy and the service sector with the Public Employment Office in major towns being the first port of call for UK nationals working in Cyprus. You will need to register your intent to work in Cyprus and obtain a social security number in order to get a job in Cyprus.
Top Cities in Cyprus for Expats
These are the top cities in Cyprus for those moving from the UK to Cyprus. With popular British expatriate communities, they offer the perfect places to settle into life in Cyprus with a thriving community.
Paphos

Limassol

Nicosia

Larnaca

Famagusta

Kyrenia
If you are moving to Cyprus and looking for a trustworthy international removals company then check out our removals to Cyprus services. Alternatively, to find out more, why not request an instant callback from one of our Cyprus removals experts?