Exploring Thailand Off the Beaten Track
Thailand is a unique juxtaposed oasis of unworldly islands, corals and historical sites, encompassed by boozy full moon parties, overcrowded beaches and tourist-filled resorts.
The beauty and mystery surrounding the island, along with the declining prices of airline flights are factors causing the spike in popularity of the once largely untouched country, bringing a new wave of millennial tourists, alcohol-fuelled hot spots and obtrusive hotels. Thailand tourism is no longer primarily about exploring but more for partying.
Ten years ago, in 2008, there were approximately 14 million visitors to the country, but in 2017 alone, Thailand's airports accumulatively welcomed 35 million tourists, but don't let this deter you from moving to Thailand, you just need the secrets!
When living in Thailand, unless you are there to enjoy a sunny Thailand retirement, it would make financial sense to reside, or at least work, in the more developed areas of the country due to the greater employment opportunities or the higher chance of business success if you are going it alone.
But if commercialised areas and the world-renowned Thai buckets (lethal alcohol concoctions) isn't your bag, where will you spend your annual leave or weekends? Well, Thailand is fairly easy to explore using their public transport or renting a motorbike, but a motorbike will allow you to truly find secret havens of the country without the crowd.
So whether you are living in Thailand permanently or only living in Thailand for a year, once your working week is over, pack up your weekend bag and head to our self-selected best places to travel in Thailand that are off the beaten track!
Red Lotus Sea
Almost quite literally a sea of pink lotus flowers as far as the eye can see.
The ethereal vision is the result of millions of lotus flowers opening in winter time, on a freshwater lake in Udon Thani in Northeast Thailand.
The aquatic flower show begins in December and the flowers are in bloom until February, so you have to choose your time wisely, although living in Thailand permanently gives you all the time in the world to witness the splendour.
Upon arrival at the Red Lotus Sea, you can board one of the many pontoon boats that are docked at the water's edge to take you beyond the reeds and fully submerse you in 600 square acres of pink lotuses.
The best time to see the carpet of lotuses in their full glory is between 6am and midday, but there is plenty to explore for the rest of the day. A few islands stand proud in the lake, with shrines, Buddha's and statues for you to enjoy.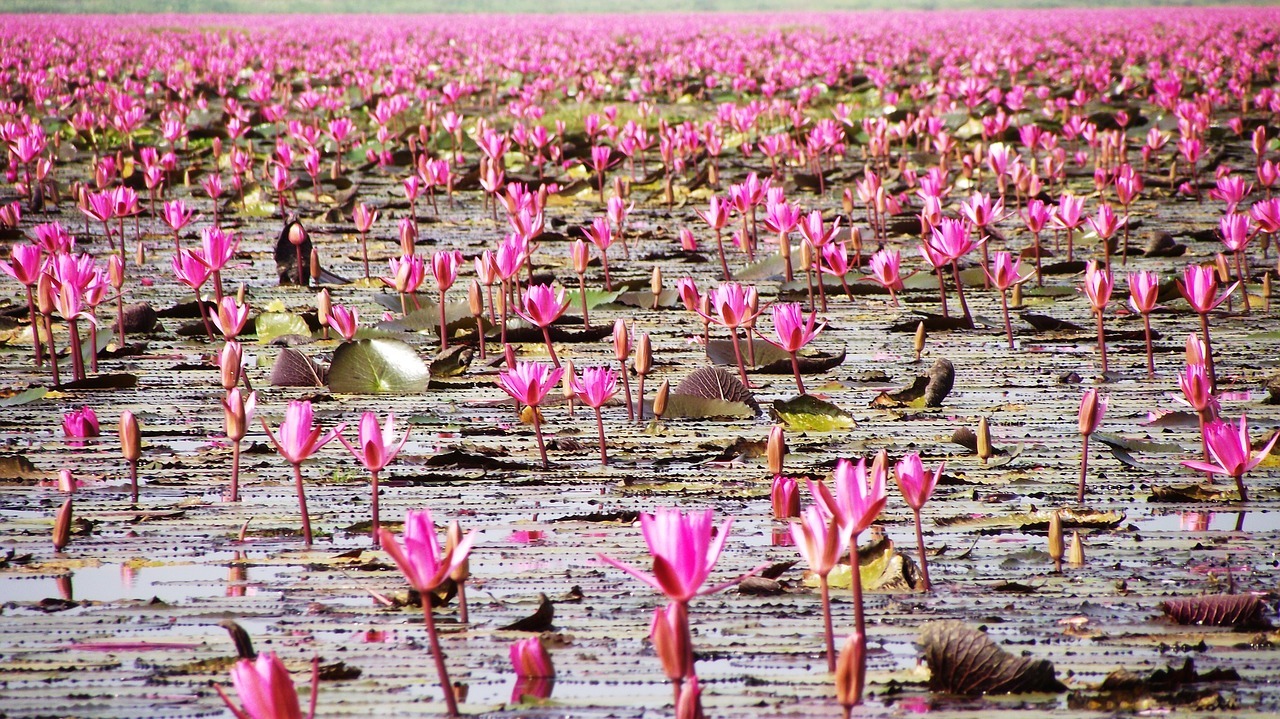 Wat Pa Maha Chedi Kaew—the Temple of a Million Beers
Wat Pa Maha Cedi Kaew, or as we know it, The Temple of a Million Beers, is quite literally what is says on the… bottle?
Three decades ago in 1984, a Buddhist monk and his acolytes became disgruntled at the rising mound of litter in Sisaket. In a bid to tackle this, the monks asked locals to deliver their used beer bottles to them so they could tackle waste disposal and begin building a fully recycled temple.
The main temple is constructed with 1.5 million recycled beer bottles, primarily Chang and Heineken bottles. After seeing the positive affect the project had on the local area, waste disposal and a greener lifestyle, the monks continued with initiative and have since fabricated a total of 20 fully-recycled sites, including water towers, prayer rooms, sleeping quarters and a crematorium.
The Buddhist temple is located in Khun Han in Sisaket with the monks showing no signs of slowing down. The more bottles delivered to them, the further they expand.
Who knows, you might see the construction in action when you visit!
Chiang Kham
Chiang Kham is part of the Phayao province in the northeast of Thailand and surprisingly, it is largely void of tourists which helps to create a unique sense of calm in the area, especially for those venturing from the south.
Chiang Kham is home to a large number of Tai Lue people, who originated from China's Yunnan province and brought with them their unique culture, intriguing traditions and their Chinese history, all of which are present in Chiang Kham.
Although limited in comparison to other districts, Chiang Kham has enough mystery, scenery and historical attractions to warrant the journey one weekend, including a number of temples, 'Wat Phrachao Nang Din', 'Wat Phra That Sop Waen', 'Wat Nantaram', 'Wat Saen Mueang Ma' and the '2324 Sacrificial Monument'.
Pang Ung
Pang Ung is nestled deep in the mountains, between Mae Hong Son and Phang Ma Pa and it lies close to the Mayan border. Pang Ung is a relaxing oasis that can often seem a million miles away from the towns below because of its sense of serenity and peace.
The area was a degraded forest previously, and so visitors often camp in Pang Ung as it is the perfect setting to do so, surrounded by reservoirs, natural lakes, mountains and sky-scraping pine trees.
Aside from breathing in the nature and the idyllic scenery, you can pass your time by visiting the nearby Pha Suea waterfall, the Royal Agricultural Project – a flower garden – and you can even take a bamboo raft out onto the lake. What a way to spend a weekend, one of the most soothing places to visit in Thailand!
Driving to Pang Ung will take you 2 and a half hour from Mae Hong Son city, but if you don't fancy the mountainous drive yourself, you can take a ride on a truck from the city.
Thailand travel has now become the idealistic destination of many youngsters looking to travel the world, or to at least have the bragging rights to say they have been to Thailand. But as an expat living in Thailand, can you blame them?
Thailand is undoubtedly one of the most stunning, historically rich and culturally flourishing countries in the world so it is expected that wherever you go, you might come across the odd tourist and fellow expats since the sheer beauty of Thailand means increasing numbers of people will really take the time to discover and explore every nook and cranny.
So, when it all gets too much and too touristy, hopefully we have provided you with some hidden treasures where you can escape the madness of it all and learn to re-appreciate the country you have made home, and rediscover why you fell in love with Thailand!