Sending Items Abroad with a Company you can Trust!
If you need to send goods overseas but you are not sure of the best course of action, look no further than Anglo Pacific's premier services for shipping goods abroad from the UK. If you are moving overseas, returning home or wanting to send a birthday gift to a friend across the water, we have you covered.
Ever since our inception in 1978, our international goods shipping solutions have consistently grown, evolved and now taken online to guarantee a convenient and immaculate service! We have grown to become one of the UK's leading goods shipping companies for personal and heavy goods shipping, and we now send around 20,000 consignments yearly.
Enjoy a Comprehensive Shipping Goods Service
Our process for sending items abroad is designed with your needs in mind, so you can send boxes, bags, suitcases and personal items with minimal effort.
Your work starts and ends with requesting an online quote or remote video survey. From your initial contact with Anglo Pacific, you will be assigned a shipping coordinator to manage your shipment of goods from the beginning.
Our all-inclusive service to send good abroad includes:
A dedicated move coordinator who will plan, manage and lead your goods shipping
Industry certified packing materials to protect your items when sending goods abroad
If you prefer, a team of expert movers can pack your possessions ready for shipping
Goods are taken to our depot for loading onto shipping container or freight plane
Shipment of goods to your chosen destination using the agreed shipping method
We organise the necessary customs clearances and assist with documentation
Delivery of your goods to your specified home, hotel or office address
We can assist with unpacking and the disposal of used packing materials if required
Why Choose Anglo Pacific for International Package Shipping
For an Easier Journey
Hauling extra suitcases and bags onto a flight is a strenuous and heavy inconvenience. Not only this, you will spend a lot of waster time at baggage drop-off and collection desks when you could be relaxing. Shipping goods abroad with Anglo Pacific eliminates this stress, frustration and time-wasting.
You Can Ship Goods to European and International Countries
Regardless if you are sending items to nearby Malta, the party cities of Thailand or all the way down under to Australia, our services to send goods overseas are available to you!
Need Your Items Urgently? We Can Still Help!
Our access to road, sea and air freight vessels means we can work to your requirements, whether you want to save money or save time. If you need to send items abroad urgently, enquire about our air freight goods service today.
Internationally Accredited Company for Shipping Items Abroad
We are acclaimed by a number of recognised organisations for our services, giving our customers peace of mind. We are a FIDI Accredited International Mover, members of the British Association of Removers and bound by the BAR Advance Payment Guarantee Scheme to give you financial protection.
Would you like to speak to one of our friendly consultants?
Request a call back
Get your online quote for shipping items abroad
in a few simple steps…
There are no limitations when shipping goods overseas from the UK with Anglo Pacific. We have the ability to send personal goods, household items, office or sports equipment to many European and international countries, towns or cities.
Some of the items we are often tasked with sending overseas are;
Extra suitcases of clothes, shoes and accessories
Jewellery, toiletries and make-up
Work tools, computers and televisions
Cutlery, kitchenware and crockery
British foods, snacks and a common favourite – English tea!
Textiles, rugs, curtains and soft furnishings
Mirrors, lighting, pictures and artwork
Bicycles, surfboards, golf clubs and weights
Every country has its own list of prohibited and restricted items and we must act accordingly to these listings. However, if your chosen country permits it, we will send it as part of our service for shipping belongings overseas.
For customers who would prefer a full packing service, we are happy to oblige. A team of packing specialists will wrap your goods for safe delivery and pack them into strong moving boxes ready for shipping abroad. We will also create a full inventory to avoid any confusion at the receiving end.
We understand that some customers prefer to self-pack their goods for sending abroad, but we still provide packing materials to self-packers to make sure your items are fully protected on their journey.
Here are some of our helpful packing tips for shipping goods from the UK:
PACK WITH TIME TO SPARE
You can never be too prepared when sending goods overseas. Leaving your packing until the last minute means you are more likely to forget something crucial and it also increases stress levels. You should start packing 6 to 8 weeks before your move so that you can pack in an orderly fashion and at a steady pace.
DECLUTTER YOUR HOME AND BELONGINGS
You must be concise sending items abroad and only take items that you NEED or that are of great sentimental value. Packing lightly makes the process easier for you and it also helps to keep the cost of shipping goods as cheap as possible.
WRAP FRAGILES AND VALUABLES WITH PACKING MATERIALS
You must wrap all precious, valuable and fragile items with packing materials such as corrugated card, bubble wrap and packing foam to lower the chance of damage. Examples of fragile items include pictures, china, mirrors, glassware, artwork and the likes.
USE (and don't overfill) APPROPRIATELY SIZED TEA CARTONS
A box or tea carton that is too big, or too small, will increase the chance of your goods being damaged in transit. Your moving boxes should always have a bit of space that should then be filled with packing foam to cushion the contents. If you are shipping heavy items you must be sure your moving box can hold the weight of its contents.
CLEARLY LABEL ALL MOVING BOXES
You should label your boxes for two reasons when sending goods overseas. The first and somewhat trivial reason is organising and unpacking your boxes will be much easier if you know which room each moving box should be in without needing to open the box. Labelling all boxes with your name, contact details and your new address will also mean they can easily be forwarded to you on the small chance they are misplaced.
CREATE AN INVENTORY
We recommend creating an inventory as you pack so that you know exactly what you have packed, what should be delivered to your new address and to easily determine what – if anything – has been lost in transit.
PACK A SURVIVAL / ESSENTIALS BAG
We advise customers to pack a survival bag purely to make your life easier when you are tired and have just arrived in your new home. Your survival kit should contain items you might need – or want – upon arrival without having to venture to a supermarket. This can be household or personal goods such as toilet paper, a kettle, tea bags, toothpaste, toothbrush, medicine, box cutter etc.
The cost of sending goods with Anglo Pacific is always just and fair. Your quote is in-line with your unique shipment since we calculate our costs on three key factors; shipping method, load size and end destination.
Your items are packing into the corresponding size moving boxes and then we assess the quantity of these boxes; each size variant of tea carton has its own fixed price.
The shipping method you choose is another influential factor. We use one, or a combination of road freight, sea freight and air freight when sending items overseas.
The cheapest and most common method of shipping goods is sea freight. Your goods will be packed onto a shared or sole-use shipping container depending on the number of boxes. Shared shipping containers are the most economical method and ideal for anything less than small home loads.
For fast delivery of your goods, air freight is a viable option. The average delivery of air freight consignments is 7 to 10 days, in contrast to sea freights 6 to 8 weeks. This speedy service has a higher price tag and it is generally only used in emergency cases and for one or two boxes.
Your end location is also factored into your shipping goods quote; the further your boxes are being shipped, the higher the costs will be. For example, sending goods to Cyprus will be far cheaper than shipping items to Australia.
Your move coordinator will provide you with a full break down of costings before you agree to our shipping services, this is to make sure you are happy but also that you know where your money is being spent.
Popular Destinations for Shipping Goods
Anglo Pacific has bases in London, Glasgow or Manchester, but our willingness to collect goods from any UK address means sending items abroad has never been easier. No country is too far for our experts, so if you are shipping personal goods to a European country, or to a location on the other side of the world, we can assist. Some of the most popular countries for shipping items overseas are:
Check out our country guides
Interested in anything else?
Reviews
Shipping large items is a simple process with Anglo Pacific. Our commitment to providing a punctual and reliable service means our customers are satisfied each and every time. See what some of our past customers think in our international goods shipping reviews.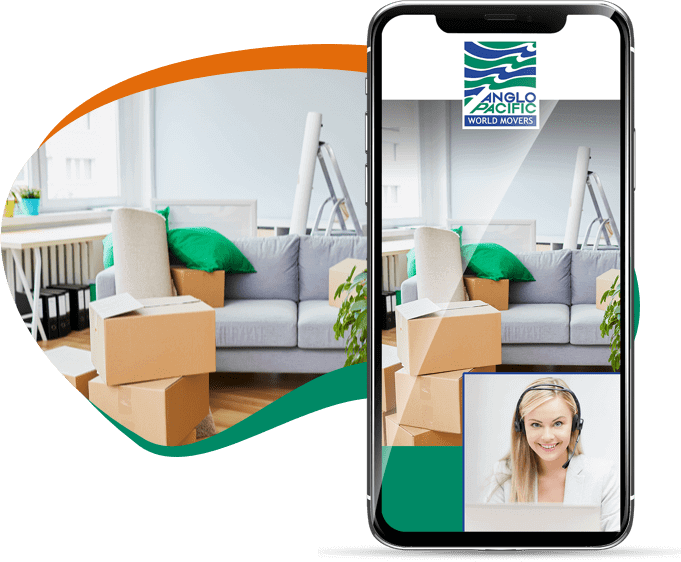 To get your quote for shipping goods, book your video survey today and one of our specialist team members will assess your items and provide you with a no-obligation goods shipping quote, online…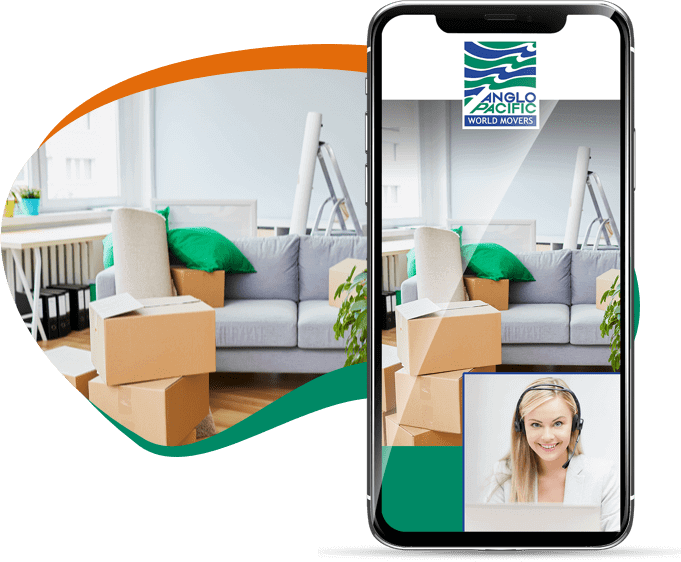 Book a remote video survey
Show us your items
Get your quote
Featured companies
and accreditation