Tasting the Delectable Delights of Delhi
Delhi – the vibrant and culturally rich capital territory of India. Ever since its inception, the diverse city has been crowned ruler of many empires and kingdoms, it has now been named the most productive metro area in India, but there is one title that won't be lost without a fight…
Is Delhi the FOOD CAPITAL of the country?!
Indian cuisine, or lose interpretations of, has dispersed far beyond the Indian borders and is now a vital element of menus worldwide. Well, England's national dish is even the chicken tikka masala. However, there is no one set cuisine and it largely differs from city to city.
Indians are passionate about many things, one of the most prominent being their love of food and everything surrounding it. They are passionate about the cooking process, others eating their creations and the social affair that a meal time can be, and you can truly taste the enthusiasm and care in their meals.
Which is why, if you ask the question of "what city is India's food capital?" you will hear a different answer depending on where you are.
Owing partly to the sheer size of the city, but also due to the importance and significance food and meal times have on day to day life in India, each region and city has adapted its own traditions and customs in regards to food, as well as mastering their own recipes.
Delhi often reigns supreme in the food stakes for a number of reasons.
Cooking is more than just a necessity in Delhi. Delhiites make it a sociable occasion each and every day, by cooking with and for their friends and family. Regardless of the occasion, by using fresh ingredient from local bazaars, they cook up some of the most delectable meals in the world and the homemade food offerings on the table are always second to none.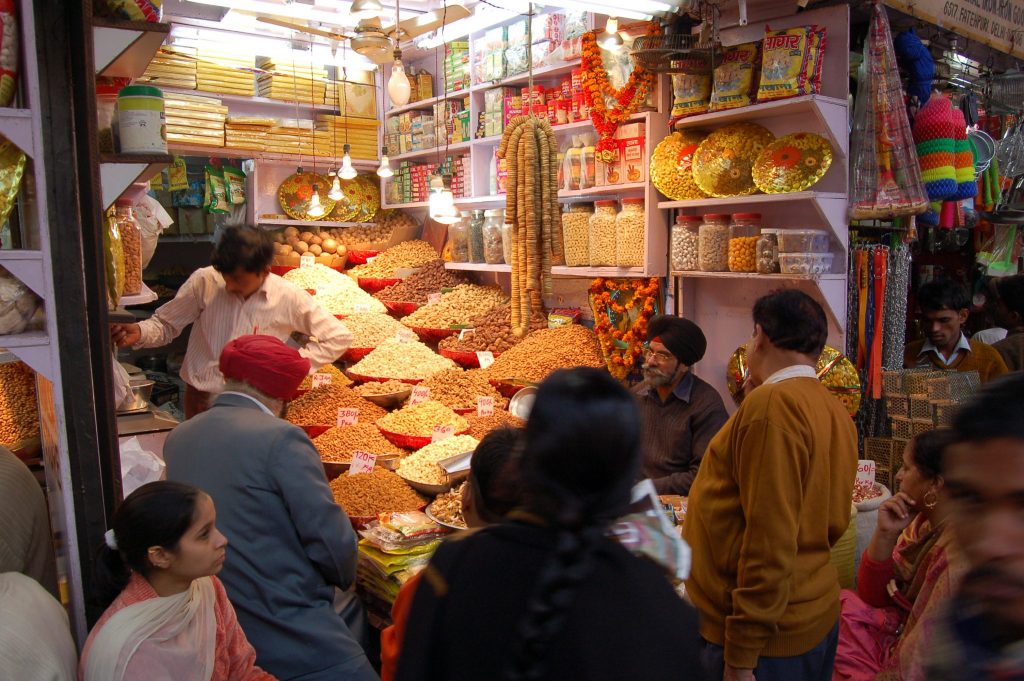 Food in Delhi is a concoction of diverse cultures and traditions, with unique recipes dating back centuries that were brought in by migrants from all corners of the country and the world, influencing Delhi cuisine forever.
One famous import cuisine in Delhi is that Mughlai. Mughlai was introduced by Mughal emperors in Medieval India and still to this day, their recipes are a traditional staple of food culture in Delhi, including Biryani, Nihari, Kebabs and Kulfi to name a few.
Another significance of Delhi's food culture is the local's love of street food. The streets of Delhi are lined with culinary delights at your convenience, with fresh kebabs, parathas, roti and dal all within your reach.
If you want to take a more organised approach to street food, you need to know where to find the tastiest homemade treats.
The holy grail of Delhi street food is in the Chandi Chowk. The energetic market is brimming with fabrics, colourful spices, dazzling jewellery and it is also home to some delicious food.
The historic market has many locally famous food vendors serving traditional Indian food until your hearts content.
Nestled deep in New Delhi is the Chawri Bazaar. The specialist paper, brass and copper market is again home to some of the tastiest and most authentic street food in the country, let alone in Delhi. You can find aloo chaat, dahi balla, tikka, burfee and far beyond and this traditional bazaar.
Purani Dilli, commonly known as Old Delhi, has some of the most classic cuisine in India. The diversity of the city allows you to transport between past and present India, with Old and New Delhi so close yet offering contradictory environment, the same goes for the foods that can be found there.
Delhi is awash with more delectable dished than we could possibly ever list. From salty and spicy, sweet and savoury, light and stodgy, there is something for all palettes, no matter how refined.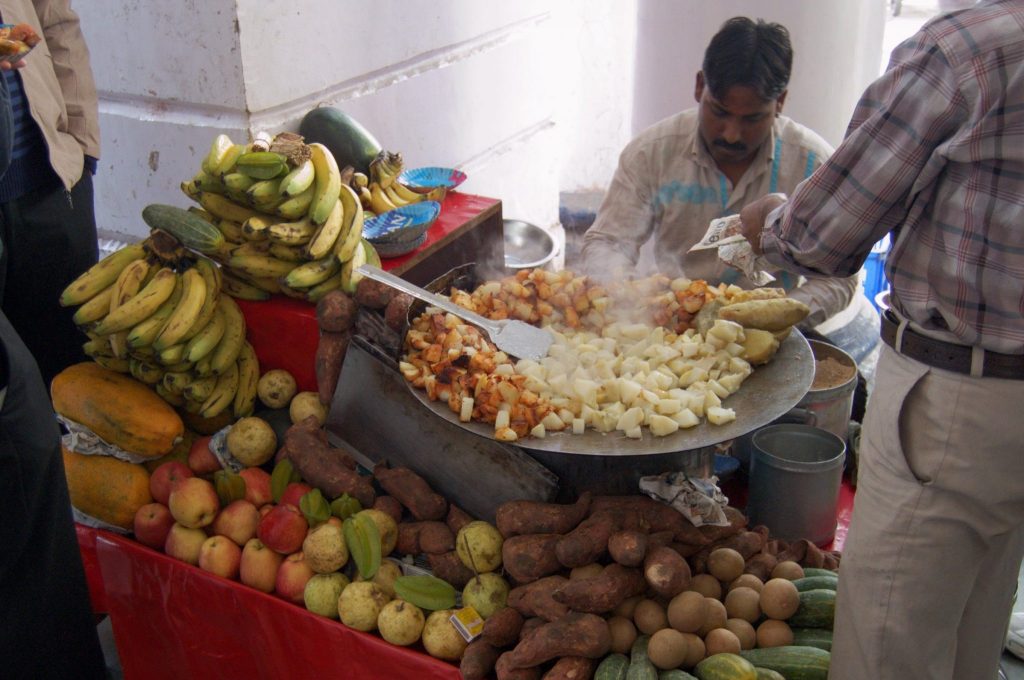 Some of the most famous and delicious Delhi dishes are:
ALOO CHAAT
Aloo chaat is one of the key street food dishes that is found in Delhi and it can be served as a full meal or a smaller snack. The dish is a mixture of fried and boiled potatoes served with chat masala. When preparing the potatoes, herbs and spices are added and quite often additions such as chickpeas, tomatoes and cucumbers are included. Aloo chaat varies from region to region.
CHOLE BHATURE
Chole bhature is a dish of chana masala, spicy white chickpeas, served with bhatura – a fried bread. Chole bhature is regularly served as a breakfast, but it is a highly popular street food dish in Delhi no matter the time of day.
BUTTER CHICKEN
Butter chicken is a dish containing cubes of chicken, marinated and served in a slightly spicy sauce. To prepare the dish, the chicken must be marinated in the sauce for several hours, which is made from yoghurt, butter and spices such as ginger, garlic, garam masala, cumin, turmeric and chilli. Traditionally, the chicken is cooked in a tandoor and garnished upon serving with butter and coriander.
ALOO TIKKI
Aloo tikka is another savoury snack that is made from boiled potatoes, onions and a combination of different herbs and spices. The ingredients are formed into a small croquette, baked in a tandoor and served with tamarind and coriander-mint sauce. Chandni Chowk is famous for its aloo tikki as well as its chaats.
KULFI
Kulfi is India's traditional ice cream but it is also popular in Sri Lanka, Nepal and the Middle East. Although similar to regular ice cream, Kulfi tastes a lot more luxurious as it is creamier and denser because it is not whipped. Traditional Delhi flavours of Kulfi are rose, cardamom and mango, although the list of popular flavours increases day by day.