Cypriot Cuisine for Expats: 9 Foods to Try in Cyprus
Due to the location of Cyprus in the Mediterranean, Cypriot cuisine (food in Cyprus) obviously has very strong Greek and Turkish influences, and it also benefits from being close to other mediterranean countries such as Italy. Cypriot recipes often include seafood or meat alongside fresh vegetables such as courgettes, peppers, artichokes, tomatoes, or okra, and pulses like beans, chickpeas, or lentils. When moving to Cyprus, many expats have a preformulated idea of limassol cuisine. Many expats living in Cyprus end up trying to avoid traditional Cyprus food altogether, opting to try and recreate their diets from home. We understand however, that Cyprus cuisine is actually full of delicious treats! That's why we'd recommend, when relocating to Cyprus, that you try out each of these 10 traditional Cypriot foods at least once. We have a feeling you might end up getting to like them quite a lot…
The food that Cyprus is famous for: Halloumi
Halloumi is by far the most famous Cypriot dish, and it's likely that you've already heard of it or even tried it before at home. Halloumi is a semi-hard cheese made from a mixture of sheep and goat milk. Halloumi cheese is known for its salty flavour and rubbery texture, and it is unique amongst cheeses thanks to its high melting point – meaning it can easily be grilled or fried and enjoyed as a crispy treat. Whether you've enjoyed halloumi previously or not, it's important to remember than nothing tastes quite like true Cypriot Halloumi enjoyed in the Cyprus sun. When relocating to Cyprus, you can expect to eat Halloumi served with fresh watermelon – this sounds like a strange combination, but it is both a common Cypriot appetizer and a Cypriot dessert!
Eat like a true Cypriot: Meze
Just as the Spanish have their beloved tapas, the people of Cyprus have their 'Meze'. When eating out in Cyprus, order a meze and you can expect to receive a bountiful platter including Halloumi, olives, Tahini (sesame seed paste), Hummus (chickpea puree), and Tzatziki (a yoghurt dip) alongside meat, fish, and/or seasonal vegetables. Many Limassol restaurants will offer their own special take on the meze. A meze usually includes a lot of food, with dishes being brought to the table 4 or 5 at a time and intended to be shared. For Cypriots, a meze is more than a meal, it's a social occasion!
Another food Cyprus is known for: Koupepia
Though not as well known as Halloumi, Koupepia, or stuffed vine leaves, is another famous Cypriot dish, also loved throughout Turkey, Greece, and the Middle East. Minced meat (along with onion, tomatoes, rice, and herbs) is wrapped in fresh vine leaves, these Koupepia are then frozen or cooked in large batches – a traditional village favourite. When relocating to Cyprus you'll soon discover that stuffing vegetables is a very Cypriot tradition that goes beyond just vine leaves: expect to be eating stuffed peppers, stuffed courgettes, and even stuffed onions.
A Cyprus-style twist on Greek fast food: Souvlaki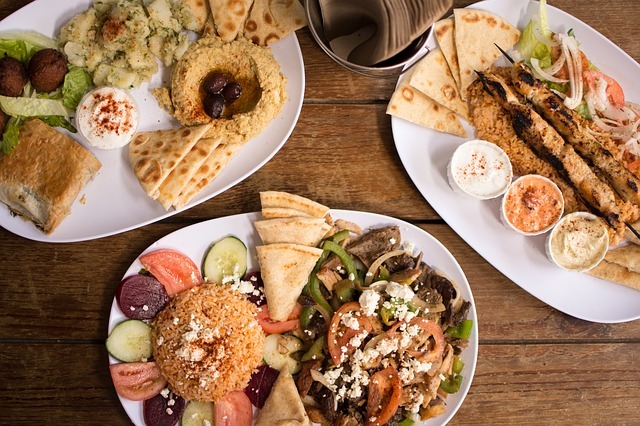 Souvlaki (small pieces of meat grilled on a skewer) is known for being a very popular Greek fast food, eaten straight off the stick and served with pita bread. In Cyprus you'll find that Cypriot souvlaki is served with a thinner, larger pita bread than in Greece, and often comes with lemon quarters and pickled chilli rather than all of the sauces that usually come with Greek souvlaki. Restaurants in Cyprus usually have great vegetarian souvlaki options too, such as halloumi or mushroom.
The Mediterranean answer to a good old casserole: Moussaka
After your big move to Cyprus, one day you might be craving some home comforts – a warm, hearty, filling dish that's made to be enjoyed slowly while surrounded by friends and family. Perhaps you're picturing a casserole or lasagne, but we prefer the Cypriot answer: a Moussaka. Made with layers of aubergine, lamb, bechamel sauce and cheese, Moussaka is a baked dish. In Arabic nations, Moussaka is frequently enjoyed cold, but in Cyprus, Turkey, and Greece it will be served warm – and it will warm your soul!
Oven Macaroni: Makaronia Tou Fournou
Another soul-warming, comforting dish that will resonate with you well if love a good macaroni and cheese or pasta bake is Cyprus' 'Makaronia Tou Fournou', which is 'Oven Macaroni' to you and me! Also known as 'Pastitsio' in Greece, this dish is made from large pasta tubes, minced pork, and lots of creamy bechamel sauce. With added anari cheese sprinkled onto the top, this Cypriot pasta bake has a yummy crispy texture. You can expect to be served your Makaronia Tou Fornou in a carefully cut square piece, so that all of its wonderful layers are visible as you eat.
Street Food in Cyprus: Koupes
What's more satisfying than finding a go to snack you can count on in your peckish times of need? After relocating to Cyprus, slowly but surely you might find yourself becoming addicted to Koupes (or 'Kibbeh'). Made from bulgar wheat, minced meat, and delicious spices from the Middle East, Koupes are tasty, croquette-style bites. You'll be able to find this perfect snack being sold by street-food vendors all over the place, especially outside churches on Sunday mornings or at festivals. You can expect to eat Koupes in Cyprus served with wedges of lemon, to add an extra zesty flavour.
'Greek' doughnuts: Lokmades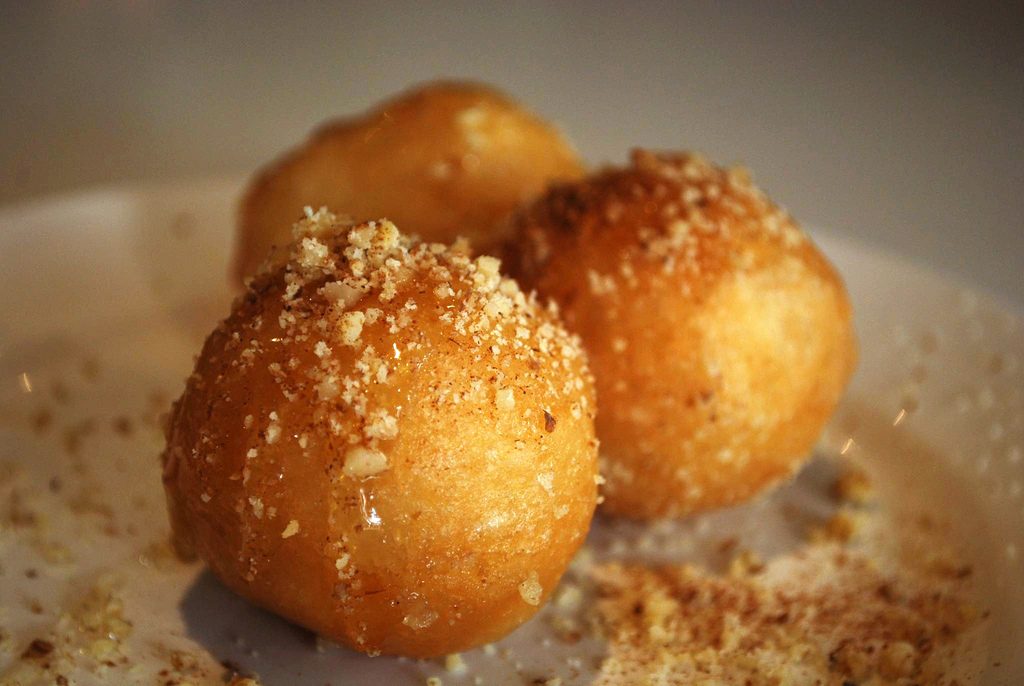 No guide to food in Cyprus would be complete without mentioning a couple of very sweet treats. Known as 'Loukoumades' in Greece, these originally Greek doughnuts (their origin is hotly debated – so watch out!) are now a huge favourite in Cyprus, where they are called 'Lokmades'. Cypriot Lokmades, however, are made with one special ingredient that makes them stand out from Greek Loukoumades: mashed potato! This gives the doughnuts their beloved starchy flavour. After the dough balls are deep fried, they are soaked in honey or blossom syrup and coated in generous helpings of cinnamon, nuts, and sesame seeds. You'll find Lokmades served up in little speciality coffee shops, roadside stalls, and even malls!
'Turkish' Delight: Lokum
Another sweet treat served up in Cyprus that you've most definitely heard of would be 'lokum', an indulgent, sticky dessert made from starch gel and sugar, flavoured with rosewater, orange, or lemon. If 'lokum' doesn't sound familiar, it's because you've probably only ever come across it under another name – 'turkish delight.' Though the well-loved confection is known around the world under this name, the exact origin of the sweets is still yet to be definitively confirmed. In Cyprus, you'll also find lokum marketed as 'Cyprus Delight', as this country also lays claim to the origins of the dessert. The island even has a PGI (protected geographical indication) registered for the lokum produced in the Cypriot village of Geroskipou.
Now you know a little more about the food cyprus is known for, the food cyprus produces, and the food cyprus and cypriot people eat, you can go on your own taste adventure! When moving to Cyprus, be sure to try these 9 traditional cypriot foods, but also be bold and try other, lesser-known delicacies – you might be surprised what you find! If you need any advice on the process of relocating to a new home in Cyprus, you'll need the help of a professional Cyprus movers service, which is where we come in. At Anglo Pacific we have years of experience in international removals to Cyprus, and we would be happy to help you on your journey. Contact us today and see how we can make your Cyprus move simple, stress-free, and enjoyable.