Moving to Japan: An Expat's Guide to Japanese Food
So you're moving to Japan, how exciting! If you're moving from the UK to Japan you can definitely expect to experience quite a bit of culture shock due the many differences between the British and Japanese lifestyles. Perhaps one of the most immediately noticeable differences is likely to be the change in your diet! So we thought we would give you a little foresight into your new expat life in Japan by giving you a heads up about the cuisine you'll experience there. Here's our mini-guide to eating in Japan, which will start you off with some information about what to eat and where…
What to eat in Japan: Must-try foods
Sushi (and Sashimi)
What's the first thing that comes to mind when someone says 'traditional japanese food'? Why, it's sushi of course! Sushi has become the icon of Japanese cuisine, and for great reason – it is wonderful! When relocating to Japan you'll soon discover that there are sushi restaurants to meet a variety of budgets. We'd recommend Tokyo's fish market as the best, freshest place to indulge in sushi. We'd also suggest that as an expat in Japan, you learn a little more about the culture surrounding sushi – one of the best things about it is the respect that goes into the process of making it. It would also be a great idea to brush up on some basic sushi terminology, here's a few useful words to start you off:
Maki = The type of rolls so typically associated with sushi.
Sashimi = Raw, sliced, seafood accompanied only by soy sauce (and perhaps a little ginger or wasabi, but no rice)
Nigiri = a piece of 'sashimi' (seafood) delicately pressed onto the top of a strip of vinegared sushi rice.
Temaki = a large, cone-shaped roll made of nori seaweed (and filled with fish and rice!)
Ramen noodles & Ramen soup
Living and working in Japan, you'll soon get to be familiar with another of the country's most-loved foods: ramen! Ramen noodles are made from wheat flour, salt, and water, and come in different flavours, colours, and sizes depending on which region you're exploring. Ramen soup also varies from region to region – it usually showcases the creativity of a certain place by using the most important ingredients from that location to carefully garnish the soup (such as bean sprouts, sliced pork, dried bamboo, or even boiled egg). There are even ramen theme parks in Japan called 'Ramen Museum', these are like villages where you can try multiple flavours – true ramen heaven!
Miso Soup
Miso is another popular soup that you must try while living in Japan. It is made from 'dashi stock', wakame seaweed, tofu, and scallion greens. It sounds a bit weird if you're used to plain old English food, but in addition to being healthy and beneficial, it's also super tasty!
Matcha products
Though you may know Matcha as a type of green tea, in Japanese cuisine it is used for much more! Matcha green tea powder is added to many weird and wonderful foods in Japan, meaning before long you'll be addicted to delicious matcha ice cream, matcha chocolate, and even matcha cake!
Where to eat in Japan: A guide to quick & easy Japanese restaurants
As you may have heard, life in Japan for expats can be quite expensive when compared to the UK. One thing you don't have to worry about though, is eating out! Of course, plenty of expensive Japanese restaurants exist, but there's also a fantastic range of great-value choices, especially if you're stuck for time on your lunch break. Let's look at some of our favourite low budget Japanese cuisine eateries for busy British expats in Japan.
Kaitenzushi (conveyor belt sushi restaurants)
You may have seen some Kaitenzushi-style restaurants appearing in the UK in recent years – these are where sushi selections travel around the restaurant on a little conveyor belt. These Japanese restaurants often use different coloured plates to indicate price ranges, though some chains have fixed prices of 100 yen per plate (such as Sushiro, Kura Zushi, and Kappa Sushi). These restaurants are a fun option for sushi lovers on a budget!
Ramen Restaurants
Ramen restaurants often have a layout made for ease of use even if you're dining alone, these means one long row of seats at a kind of 'ramen bar'. In these restaurants, you'll usually find that customers pay at a machine first, then take a ticket to the waitress or cook for their meal (it's actually much easier than waiting for the bill afterwards!)
Japanese Fast Food
Of course, you'll easily find your favourite fast food chains in Japan (nowadays, you can't get away from McDonald's or KFC no matter where you go!), but you'll also discover some Japanese fast food restaurants that specialise in yummy noodles and rice bowls. Often these restaurants sell plastic take-away lunch box trays and bento boxes, which are really convenient to grab and eat on the go!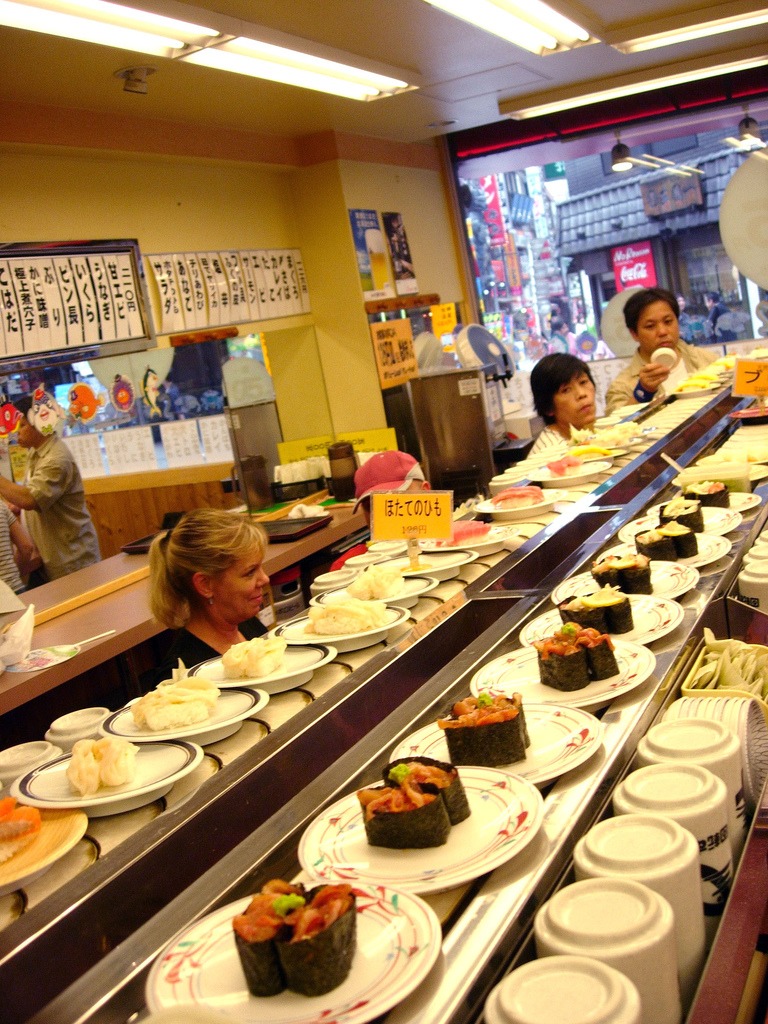 And when you're missing home? How to find international food & drink in Japan
Life in japan for immigrants is exciting: full of new friendships, new places, and new experiences! But there's no shame in admitting that sometimes (only sometimes) we can all get a little bit homesick. And when you're missing home, what's better than some good old nostalgic comfort food? If you'd like to know where you can buy international food once you've moved to Japan, read on…
Visiting large, international supermarkets will often be the best opportunity to come across British and other foreign foods. You'll probably have to travel to larger city area though, as most items from home don't tend to be sold at average supermarkets. Look for big department stores with food courts that offer lots of imported goods, here you're likely to find your favourite foreign sweets and snacks.
Independent businesses such as 'The Meat Guy' and 'The Foreign Buyers Club' are great for selling authentic foreign foods that aren't often sold in Japan. These services allow you to order the foods from inside Japan, but if all else fails there are also plenty of services that allow you to order from overseas – just remember that a bulk order often works out to be much better value!
Now you're prepared with the basics of Japanese food culture, we're confident that after your Japan move you'll soon be going off on culinary adventures all be yourself! We are so excited for you to start life in your new home! Remember, if you are looking for moving companies to help with your Japan migration – we are here to help. We have decades of experience in international removals, so we know exactly how to relocate your belongings safely and professionally to your new home in Japan. Don't hesitate to get in touch today and find out what Anglo Pacific can do for you.