Fun things to do in Chicago
When visiting Chicago or moving to Chicago, many people are unsure of what there is to do past visiting Millennium Park and the famous Cloud Gate 'bean' landmark. In reality, there are loads of things to do and see in Chicago, and so many Chicago attractions you won't know which one to choose! That's why we've compiled a list of what to do in Chicago, including family things to do in Chicago, things to do in Chicago for couples, free Chicago activities, and even some fun things to do in Chicago at night…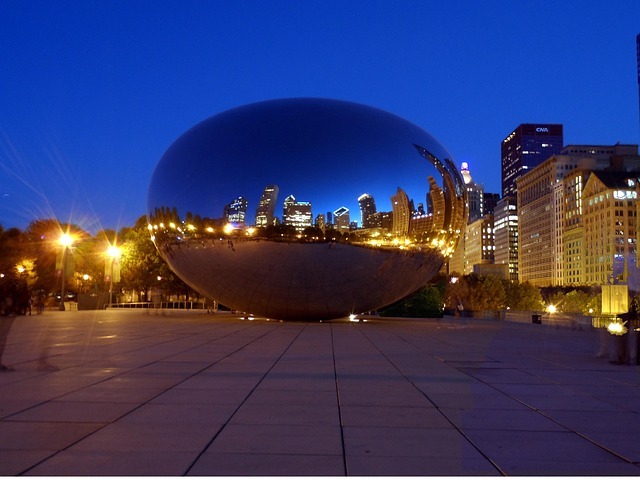 Family things to do in Chicago
Whether you're moving to Chicago with all the family, or simply looking for things to do in Chicago with kids, you're in luck! Chicago is a very family-friendly city, so you'll find plenty of fun activities to keep everyone happy:
Explore one of the world's largest indoor aquariums…
There's no denying that everyone loves an aquarium, and when you find a great one it can make a fantastic day out for all the family. Chicago is home to one of the world's largest indoor aquariums – Shedd Aquarium – which houses over 30,000 sea creatures including stingrays, sea lions, piranhas, penguins, and even beluga whales! You and the kids will be able to explore many water habitats and if you like, even participate in feeding experiences and other special animal encounters.
Visit one of Chicago's many fascinating museums…
Visiting a museum or two is another great idea for all the family, what's better than a day out filled with both fun and learning at the same time? There are hundreds of museums and galleries in & around Chicago, so we've hand-selected a few of the best for you and your kids. The Field Museum is a famous museum of science and anthropology, where you and your family will discover many exciting exhibits and interactive activities, including the world's largest dinosaur! Chicago's Museum of Science and Industry is the largest science museum in the Western hemisphere, your kids will love all the hands-on activities and highlights including a replicated 40 foot tornado! Chicago Children's Museum is another great choice, especially for younger children, as it focuses on fun play exhibits for little ones. It's also located at the Navy Pier, where you can check out Chicago's huge indoor botanical park, Crystal Gardens.
Get out and about: see Chicago by bike!
Though aquariums and museums are fun and fascinating, sometimes you need some more energetic ideas for kids that are never tired! Why not explore the city by bike? Chicago is extremely bicycle-friendly, with 26 miles of easy bike trails that take you along lakefronts, from attraction to attraction, or through beautiful parks. After all, you'll want to do some exercise to burn off all that deep-dish pizza you'll be eating…
Things for couples to do in Chicago
Visiting Chicago or moving to Chicago with the one you love? You've picked a great city, as you'll never run out of options for date night here! We've picked just a few of our favourites…
Go on a Chicago deep-dish date…
We can't give you a guide to Chicago without mentioning deep-dish pizza! Though many Chicago residents feel the ongoing battle between deep-dish and the New York slice is just silly, it's still a thriving tourism opportunity! Many downtown deep dish joints are just tourist-packed and not worth the visit, but there are still some great places out in neighbourhoods that are perfect for a deep-dish date. Try Pequod's in Lincoln Park or Burt's Place in suburban Grove.
Have a laugh with some live comedy…
Have a good giggle with your date by going for a fun-filled date at one of Chicago's many live comedy clubs. Second City is Chicago's most famous comedy venue of course, but there's also the iO Theater, Annoyance Theatre, UP Comedy Club, Laugh Factory, and Zanies to try out. Along with many others! You can also find stand-up comedy at many local bars, so you can have a few drinks together while enjoying the evening.
Like beer & video games? Get nostalgic at an arcade bar…
The only thing better than taking your date for a drink at a bar, is taking them to a bar where you can also play games! That's right, many bars in Chicago house entire arcades, so you can play video games, pool, air hockey, and even mini golf! Emporium Arcade Bar is one of the best in the city, with FTW Chicago, Replay, and Headquarters Beercade following closely.
Free things to do in Chicago
Exploring a new city doesn't mean you have to break the bank – Chicago has plenty of free attractions and activities that you can enjoy without spending a penny:
Stroll through a park or along a lakefront…
Chicago is one of the oldest and largest park districts in the entire USA, meaning it is home to 580 parks (that cover 8,100 acres of parkland!). So, entirely for free, you can have many urban nature escapes to parks like Lincoln Park, Grant Park, Humboldt Park, Jackson Park, and many more. Chicago's lakefront is also spectacularly impressive and a must see when visiting the city.
Take a hike…
The 606 is an abandoned rail line that has been transformed into an urban hiking trail. With 2.7 miles of elevated pathway that passes through many of Chicago's neighbourhoods and is connected to four of their great neighbourhood parks on ground level. Hiking, biking, strolling, or running along this trail is a just an amazing way to get to know the city for free. If you do happen to have any spare change though, it might be worth stopping off at one of the many cool restaurants and bars along the way for some nourishment!
Enjoy a beautiful beach…
Chicago is so exciting as a city that it's easy to forget it's also located next to some amazing beaches! The city beaches are the best part about a Chicago summer, and can be enjoyed on any kind of budget! Famous beaches include Oak Street, Rainbow Beach, and North Avenue Beach – though these can get very popular in peak season! Don't forget about some of the more underrated spots, like Ohio Street Beach, Kathy Osterman Beach and Berger Park.
Things to do in chicago at night:
New York isn't the only US city that never sleeps! There's loads going on in Chicago after sunset, you just have to know where to look…
Be part of Chicago's thriving underground music scene…
Indie rock, pop punk, and classic rock are all very much alive and thriving in Chicago's underground music scene, so whatever you're into you'll find the joint for you. There are many independent quirky drinking spots to enjoy some live music, as well as many more old-fashioned traditional bars. Some favourite venues include The Empty Bottle, The Hideout, and The California Clipper.
Travel back in time at a late night jazz joint…
Another kind of live music we haven't yet covered is of course, jazz. Live jazz joints in Chicago are a world apart from other music venues, they simply transport you back in time. Try The Green Mill for a true jazz experience in a location where you'll be expecting a mobster to burst in the door at any minute! In fact, Al Capone frequented this jazz joint as one of his favourite pastimes, and his secret booth is still tucked away inside the venue.
Take one of many Chicago night tours…
Who says you have to see the city by day!? Many companies in Chicago offer the opportunity to explore the city at night, with activities on offer including riverwalk strolls, cruises & boat tours, and even ghost tours!
See, you'll never get the chance to be bored in Chicago! With so much to do, the city makes a great place to visit, but also makes a great new forever home to relocate to. If you're looking for international movers to the USA, look no further than Anglo Pacific. We have decades of experience in helping people move to Chicago and the rest of America, so get in touch today and see how we can help you.