Hong Kong Cuisine, Eating Etiquette & Food Culture
For many Hong Kong expats, understanding what to eat in Hong Kong (as well as where & how) is extremely important. If you'd like to home cook like you did in the UK after moving to Hong Kong, you may be a little disappointed. The majority of Hong Kong homes do not have ovens, plus supermarkets are expensive and lacking in choice. If you'd like to cook like true hongkongers, be sure to shop at street markets and use the hob for most dishes. Fortunately, eating out in Hong Kong is fairly cheap compared to the UK. Read our Hong Kong food guide to find out more about how delicious Hong Kong cuisine can be, as well as for Hong Kong food culture & Hong Kong etiquette tips!
Hong Kong Cuisine
Traditional Hong Kong food hails from the Guangdong Province of China, with the most popular Cantonese dishes consisting of poultry, meat, or seafood alongside rice or noodles and some kind of preserved or pickled vegetables. You'll find when eating in Hong Kong that there is a dominant sharing culture – most groups order a large meal to be shared together. Street food is also a very significant part of Cantonese food culture in Hong Kong. You're sure to discover many street stalls selling delicious smelling, often deep fried, foods and snacks!
Meals in Hong Kong
A popular choice for breakfast in Hong Kong is often 'congee'. This typical Hong Kong breakfast dish is made of boiled white rice with the consistency of porridge – it's usually savoury, eaten alongside many different options including salted pork, minced beef, or fish. The most popular food to eat in Hong Kong at lunchtime is Dim Sum – find out more about eating Dim Sum in Hong Kong below. For an evening meal, hongkongers typically tend to eat a stir fry, or combine steamed or boiled rice with meat at dinner time. Popular desserts in Hong Kong include baked egg custards (Daan tart), deep fried dough (Yau char gwai), and steamed hot buns with melted butter (Bow law yau). Hong Kong local food specialities do tend to differ from region to region – so there's a wealth of flavour for you to explore.
How to Eat Hong Kong Dim Sum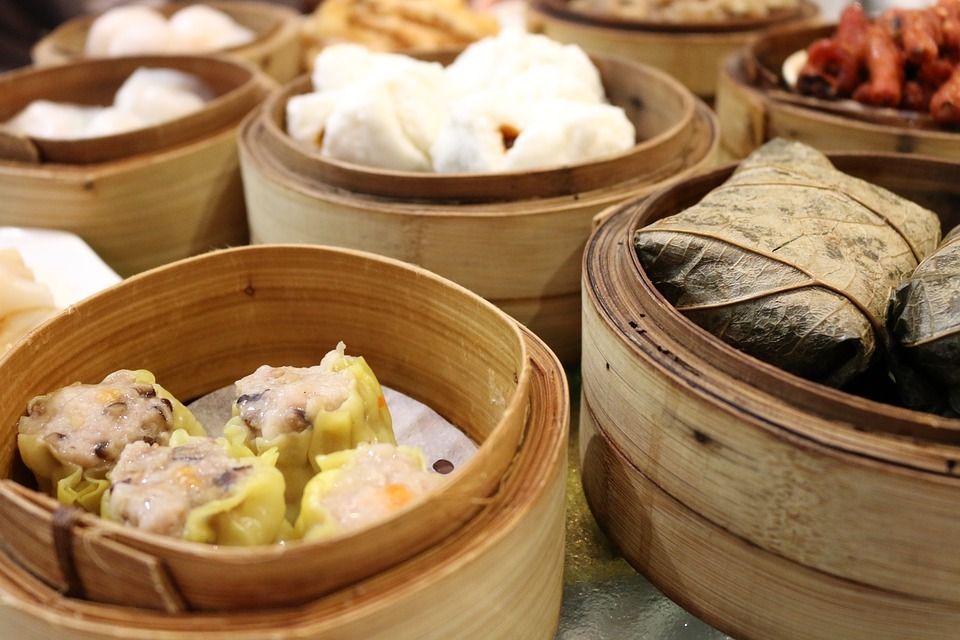 A Hong Kong eating guide wouldn't be any good if it didn't go into detail about Dim Sum! Roughly meaning 'little pieces of heart', Dim Sum are little dumplings that are fried or steamed before traditionally being served in bamboo baskets. Popular Dim Sum choices include barbecue pork, steamed prawn dumplings, deep fried seafood, squid, or spring rolls, and steamed mince pork dumplings. Hong Kong Dim Sum is also accompanied by many sauces and dips including soy, chilli oil, sweet sauce, or garnished vinegar. Remember when eating Dim Sum in Hong Kong that it is better to take small bites than eat each piece in one go – you're also less likely to burn your mouth that way! For more info, check out this helpful Dim Sum guide created by Hong Kong's tourism board.
Hong Kong Drinks & The Cultural Significance of Tea
Though many imported drinks are widely available, when relocating to Hong Kong it's a great idea to get acquainted with local, traditional Hong Kong drinks! Popular Hong Kong beverages include Yeun Yeung (a blend of tea and coffee), Liang hua pei (plum brandy), and Zhian jing (hot rice wine). By far the most significant drink to understand when moving to Hong Kong though, is tea. Tea is an extremely integral part of all Chinese cultures, steeped in etiquette and tradition. Tea is traditionally sipped slowly whilst eating small servings of food (usually Dim Sum). Tea is often poured as a sign of respect, for example by the younger generation for their elders, or to express gratitude to parents on a wedding day. At any kind of meeting, you'll probably find that tea will be served to you first. Don't take the first sip though, wait for the host to do so. And if you'd ever like your empty teapot to be refilled, simply place the lid at a diagonal angle.
The Unwritten Rules of Hong Kong Restaurants
You won't be short of options to choose from when deciding where to eat in Hong Kong! These are plenty of fantastic fine dining Hong Kong restaurants as well as better value 'cheap-eats' locations. When out and about discovering the best food to eat in Hong Kong though, there are a few unwritten restaurant 'rules' you should be aware of to make the whole process easier. Firstly, expect to share your table! With limited space in Hong Kong restaurants, it is common to share tables with other groups – it could seem awkward at first but it's the norm and you'll soon get used to it. Secondly, once you've placed your order your receipt will come to your table (usually slipped underneath a glass). When you've finished your meal there's no need to ask for the bill, simply pay at the door (usually only in cash). Lastly, in Hong Kong diners it is normal to see customers chatting with their mouths full and belching loudly – don't be alarmed! In Hong Kong it's a case of 'better out than in'!
Hong Kong Dining Etiquette – Do's & Don'ts
Finally, we will leave you with a few do's and don'ts of Hong Kong's food culture – if you follow these you'll be sure to have a fuss-free and enjoyable Hong Kong dining experience!
DO: Leave bits of your meal on your plate to show food satisfaction – if your plate is completely empty your host may assume you weren't served enough food, which could be embarrassing for them.
DON'T: take food from the table's centre without putting it into your bowl first (putting it straight into your mouth is considered rude!)
DO: Use a soup spoon alongside your chopsticks (these utensils are usually used together)
DON'T: Stick your chopsticks vertically into a bowl of food (usually done at funerals), point your chopsticks directly at someone or something (impolite), or lay your chopsticks across each other (bad luck).
DO: Place your chopsticks across a dish or bowl when finished.
For more general information about moving to Hong Kong, check out our Hong Kong relocation guide. Here at Anglo City movers Hong Kong, we have built up a reputation as one of the leading HK movers by accumulating decades of experience to help you transition to a new life with ease. Contact us today to see how we can help you.