Is it Worth Sending My Furniture Overseas?
If you are planning to move to another country from the UK, you may be wondering if it is worth sending your furniture overseas or simply buying new furniture upon your arrival in a new country. Moving furniture overseas can be a big undertaking but we're here to offer our simple to guide to figuring out whether sending your furniture abroad is worth it for you.

Do You Need to Send your Furniture Overseas?
One of the first questions you should ask yourself when deciding whether it is worth sending your furniture overseas or not is do you actually need to send furniture overseas? If you are only moving abroad for a year, for example, it doesn't make any sense to move furniture abroad. However, if you are moving abroad for a long period of time and have key pieces of furniture you need, then it may be worth shipping your furniture overseas.
Do you Have Favourite or Irreplaceable Items of Furniture?
When living abroad it can be nice to have some reminders of home moving with you. If you have items of furniture that are unique to you and you know you could not buy versions of abroad, it may be worth sending these with you are you ship your belongings overseas. Whilst many items such as tables and chairs can be bought at a wide range of shops overseas, a favourite armchair or an antique desk that holds a lot of memories will not be so easy to replace so can be worth sending overseas. 
Costs of Sending Furniture Overseas vs Buying New Furniture
When choosing between shipping furniture overseas and buying new furniture upon arrival, it is worth looking into the costs of each. Whilst most items of furniture can be bought again in another country, it is worth working out how much it would cost to replace all of your furniture if you were to buy it again new. Compare this with how much it would cost to ship your furniture overseas and you may be spending a lot more money on buying new.
What You Need to Know About Sending Furniture Abroad
If you are considering whether to send furniture abroad or not, there are things you should know about the international furniture shipping process and some things to plan before you make your move.
The Packing Process
One of the biggest and most time-consuming parts of moving furniture overseas is the packing process. If you are planning on moving abroad then this is something you will need to factor into your move time. Packing your furniture for moving abroad is also one of the costs of sending furniture overseas you will need to include in your estimates. Many international moving companies provide their own packing materials for your furniture, but if these are not included in your overseas moving services cost, you will need to factor it in to your own expenses.
Many reputable moving companies such as the team here at Anglo Pacific World Movers provide packing services to make sure that your belongings get to where they need to be securely and without any damage. We also assist with the dissembling and reassembling of furniture during the move. If this is a service you would like to be part of your international furniture move then this may also be a cost you will need to include in your international moving budget, if it is not already included within your furniture shipping quote.
Steps to Successful Furniture Shipping
When it comes to successfully shipping your furniture overseas, there are some key steps to floor to make sure it is a success. Followed carefully these can ensure you never question if it is worth sending your furniture overseas again.
Firstly, scope out your new home. You should know the exact proportions of your new home and any already-fitted furniture to ensure you can fit everything you are planning to ship overseas into your new home.
Secondly, you should make a detailed inventory of every item of furniture you are planning to move abroad. As well as being a requirement for the international furniture shipping process, this can help give you an idea of everything you will be taking with you as a reference for when you get to your new home. It can also be a good way to check if you have any multiples of any items that you may be able to do without, this can then save on shipping costs and efforts packing and unpacking overseas. At this stage, it is useful to do a quick furniture check to check your items for any wear and tear and their general condition. You may find it helpful to take pictures of your furniture. This can help if any damage occurs during transit as you can then claim on your insurance for the damage.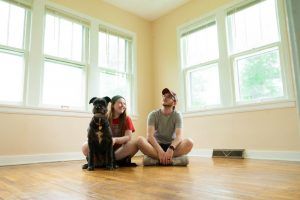 Peace of Mind
When you ship your furniture abroad with a reputable company, you get complete peace of mind about where your belongings are and what furniture you will have ready for your new home overseas. Moving abroad can be a big task and sometimes, particularly if you are moving to a more rural location, you may not want to spend your time in your new country shopping for essential furniture items you already owned at home.
With overseas furniture shipping, you can have all of the furniture you own and need sent directly to your new front door ready to use. If you use our reassembly service, you won't even have to worry about taking it out of the box and putting tricky items back together again, another benefit of shipping your furniture overseas compared to buying new, potentially flat-pack furniture.
If you are looking for a low-cost, trustworthy way to send your furniture overseas, the team at Anglo Pacific World Movers are here to help. Find out more about our international shipping service here. 
Why not get in touch online or by calling 0800 633 5445 to talk to our team about how we can help you move overseas or receive one of our award-winning quotes.