Moving to one of the Top 3 Cities in Australia: Pros & Cons
So, you're thinking about emigrating to Australia… but where exactly would you like to live? When relocating to Australia, many people like the idea of living in one of the country's top 3 cities: Sydney, Melbourne, or Brisbane. But how could you ever choose between them!? We are here to help – in this article we explore the best cities to live in Australia, comparing the pros and cons of each.
Living in Sydney
Best known for being Australia's most populous city (and for its iconic harbourfront Opera House) Sydney is an important, exciting destination for starting a new life. Getting the cons out of the way first, let's look at the honest pros and cons of moving to Sydney…
Cons of moving to Sydney
Traffic: Unfortunately, Sydney is notorious for its congestion, it suffers from worse traffic jams than anywhere else in the country.
Cost of living: Sydney is also infamous for being not only the most expensive city in Australia, but also the second most expensive city in the world! Expat life in Sydney will be costly, but now let's look at the pros so we can shine some light on why it's worth it…

Pros of moving to Sydney
Education & Employment: Australia is currently benefiting from a jobs boom – employment has risen every month for an entire year, which is something that hasn't happened for decades! Though employment is on the up for the whole country, Sydney is one of the leading cities, and is also the perfect place to move is you're looking to hone your skills… the University of Sydney is the oldest and most prestigious university in Australia! There are also plenty of other schools and institutions in Sydney with fantastic reputations.
Sea & the City: How often do you come across the convenience and bustle of city-life right alongside beautiful beaches and seascapes!? Expat lifestyle in Sydney is evenly balanced between the city and the seaside – what a perfect combination.
Weather: Most people imagine that Australia in its entirety is sunny and wonderful all day everyday, but this isn't always the case! Fortunately, Sydney benefits from the stereotypical hot & sunny weather you're probably dreaming of when thinking about relocating to Australia. Thanks to the sea, there are also many pleasant cool breezes to provide relief on those days where temperatures soar.
Family life: Perhaps surprisingly for such a large city, life in Sydney is very family-orientated, particularly in the suburbs. It actually makes a fantastic place to settle into family life!
Living in Melbourne
Melbourne is the coastal capital of Victoria, an Australian state in the southeast, and it is also the second most populous city in the country. Now, let's investigate the pros and cons of relocating to Melbourne…
Cons of moving to Melbourne
Weather: See, we told you – Australian weather isn't always a positive! That stereotypical sunny warm weather we were talking about? It doesn't always exist here! Melbourne's weather is very unpredictable and can often change multiple times per day.
Cost of Living: Yep, here's the same old con – life in this city is expensive! In fact, Melbourne is a close second behind Sydney as the most expensive city in Australia, so be careful if you're on a budget!
Pros of moving to Melbourne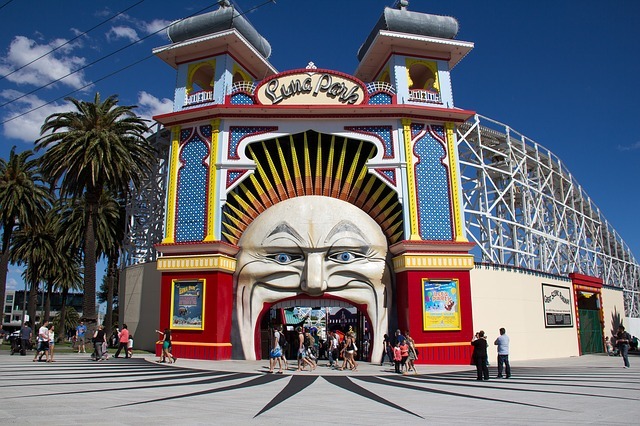 Culture: Melbourne is the place to be if you're always looking for something to do. Whether you like to explore museums & galleries, see live music, shop til you drop, or amble through nature, you'll never be bored here!
Sports: It's no secret that Melbourne is the sporting capital of the world – it has officially received the title multiple times! Sports enthusiasts will find their home in Melbourne, whether their soft spot is for football, tennis, or anything in between.
Day trips: As well as having a great number of cultural attractions in the city to keep you occupied, Melbourne has also developed a kind of 'day trip culture' of its own. Examples of the exciting day trips on offer include island hopping adventures, hikes through spectacular nature, and wine tasting vineyard trips!
Living in Brisbane
Australia's third most populous city is Brisbane, the capital of Queensland. Like Sydney and Melbourne, expat life in Brisbane has its very own set of negatives, as well as its very own appeal!
Cons of moving to Brisbane
Summer heat: Though we've talked about the summer sun as a great thing in Australia so far, Brisbane can be known to take it to the extreme! Hot summer days in Brisbane can often get particularly uncomfortable thanks to some very sticky humidity.
Cost of Parking: Though the general cost of living in Brisbane is not as high as in Sydney and Melbourne, there is one aspect that can take immigrants in Brisbane by surprise- the cost of parking. Parking anywhere in this city, even for a short amount of time, will cost you far more than it would anywhere else in the country, so watch out!
Pros of moving to Brisbane
Goodbye winter! Sticky summer heat may be a problem in Brisbane, but there's a flip side – winter barely even exists here! With an average of over 280 days of sunshine annually, you can kiss goodbye to cold weather.
Beach lifestyle: What better way to spend endless sunny days than visiting some of the most beautiful beaches in the country? Brisbane is known for being perfectly situated amongst some of Australia's most gorgeous beaches, so you'll be spoilt for choice!
Lower Cost of Living: In Brisbane, you are guaranteed to find much lower prices than you ever would in Melbourne or Sydney, especially when it comes to property. As an immigrant living in Brisbane, you'll be getting far more for far less when comparing with life in Australia's other two major cities.
Whether moving to Sydney, Melbourne, or Brisbane sounds like the best option for you, you'll need to make sure you find the right moving company to help you with relocating to Australia. Anglo Pacific is an international moving company with years of experience in moving people to Australia from the UK and making the process simple. Get in touch today and find out how we can help you make your move to Australia as easy as possible.